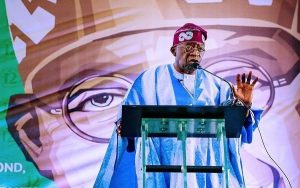 Nigeria should spend more now to create jobs and reflate the economy, Asiwaju Bola Tinubu said on Monday during the Colloquium to mark his birthday.
He urged the government to "put stimulus package in place", adding "this is no time for austerity".
According to him, the government "should not constrain the economy. This is the time to create opportunities."
He added: "If you hear America spreading $1.9triilion and they are not looking back and still asking for three trillion for infrastructure renewal and for creating jobs when your unemployment rate is at about 33 per cent and you ask us to keep on fasting. We are fasting no more. The one we are fasting spiritually is voluntary. We have been fasting for many years.
"I hope the National Assembly, I hope the President hinself will not pay attention to austerity. To curb inflation, it is the state (governments) that must constrain themselves and balance budget, it is the local government that must restrict themselves and balance budget. Sovereignity is that of Nigeria and it is only the Federal Government that has the sovereign power and  must use it for the benefit, development, health and quality life of Nigerians, that is why we are sovereign."
Tinubu advocate massive recruitment into the armed forces to prevent youths from being recruited into banditry and to create employment for them.
He said: "We are underpoliced and we are competing with armed robbers and bandits. We are to recruit a group of youth who are unemployed.